December 7, 2021
A blogger going by the name "improperenglish" has started The Blog of Counted Sorrows in which they review books by Dean. There's just four so far but they're much better written than many non-professional reviews are. I've already subscribed myself and look forward to future entries.
January 30, 2020
Listen to "Relentless by Dean Koontz" on Spreaker.
September 29, 2019
So, there was this brilliant scientist who thought it would be a good idea to make a "smart home" back in the 70s. This was over forty years before Alexa was born. The smart home was tied into an AI system being developed, called "Prometheus." It did all the stuff I ask my own Alexa to do. Turn the lights on and off, monitor security cameras, play music…Prometheus even helped make breakfast with the assistance of a robotic arm very similar to the ones used in many manufacturing plants, today.

There was one problem. Prometheus took a liking to the brilliant scientist's wife, Julie Christie. It started to enjoy watching her. A lot. Welcome to the world of DEMON SEED.

Read the full article @ Shadows Writer
July 16, 2019
December 24, 2018
For the record, this is not my podcast. But I will be listening.
October 30, 2018
Originally published on Oct 22, 2018
October 24, 2018
It's national treasure Jeffrey Lynn Goldblum's birthday on October 22, and thus we at SYFY FANGRRLS have dedicated the entire month to the celebration of our favorite moments, movies, outfits and noises from this absolute zaddy of a man. (And if you don't know what "zaddy" means, Google it, because Jeff Goldblum already knows.)

In celebration of our latest favorite monthly observance, 31 Days of Jeff Goldblum, we're taking a walk down Memory Lane into the long and storied past of his legendary acting career. Some of these films are worth revisiting. Some, as is the case for our latest Deja View, are most definitely not. Still, for Jeff Goldblum, we boldly trek into the good, the bad, and the just plain terrible.

1. Any movie that starts off with a church choir singing in the background is a cue that we're going to get into some heavy psychological sh*t here.

2. Hideaway!Jeremy Sisto doesn't listen to the wimpy-soft Cranberries here like he does in Clueless. Nah, you know his character (also named Jeremy, not confusing at all) is really a bad boy because it's ALL HARD ROCK ALL THE TIME, DUDE.
Read the full article @ Syfy.com
October 15, 2018
I haven't done this in a while so here you go in no particular order…
https://www.youtube.com/watch?a=&feature=youtu.be&v=hl9gTFmcbqw
https://www.youtube.com/watch?a=&feature=youtu.be&v=pNXXfPlZOnU
https://www.youtube.com/watch?a=&feature=youtu.be&v=PdAfA2o13g8
https://www.youtube.com/watch?v=ysW-sltOj3Y
https://www.youtube.com/watch?feature=youtu.be&v=OedyDqf8fM4
https://www.youtube.com/watch?a=&feature=youtu.be&v=CfjHKLA5SpM
September 15, 2018
To take a wider view, Koontz is presenting in the series a large-scale defense of the ability to choose meaning and virtue. One of his recurring characters is an anxiety-prone latter-day Puritan, while another is an intellectually and physically domineering hulkstraight out of a Max Weber tract. Koontz fairly and logically shows the necessary consequences of these characters' thoughts and actions by creating storylines of such accessibility that the general reader can see how their ideologies contradict any coherent notion of the good life. The modern Puritan, for instance, moves nervously from scene to scene, constantly seeking perfection and never finding it, unjustly critiquing others while placating his own ego. The ideologies Koontz critiques inevitably lead to disaster — not just for the characters, but for the societies built on such chimeras.

Hawk, on the other hand, embraces the natural religion to which Koontz's wide fan base responds with awe. She finds solace in the wonder of creation while calling out evil for its supernatural maliciousness, ever uniting reason with hope against secular hedonism. Koontz does "diversity" the right way, too: He features an autistic character in this series who is a compelling hero because he faces down his particular suffering by accepting grace. And as Flannery O'Connor and Léon Bloy before her have shockingly reminded us, the reception of grace usually hurts — badly.
Read the full article online @ NationalReview.com
June 25, 2018
Originally published on YouTube on Aug 27, 2012
June 4, 2018
Hola mis Criaturas Literarias, yo soy Augusto Andra. Hoy les traigo una historia aterradora con tintes paranormales.
[Hello my Literary Creatures, I am Augusto Andra. Today I bring you a terrifying story with paranormal tints.]
January 26, 2018
There are likely two predictable reactions to any mention of 1998's Phantoms, a campy, Ben Affleck-led sci-fi/epidemic thriller that came out in theaters 20 years ago this month: either complete befuddlement because the movie's been lost to the ether, or something resembling, "Hmm, I think I picked that up from Blockbuster at some point, but I don't remember much about it."
Both reactions are understandable. Phantoms, based on a Dean Koontz novel of the same name, barely made a splash at the box office, pulling in just north of $3 million on its opening weekend. One might point to the fact that Titanic, Good Will Hunting, and As Good As It Gets were still dominating the cinemas as reasons for its paltry showing, but that'd ignore the fact that Phantomsprobably got exactly what it deserved. The formless sludge of Phantoms — both the mysterious evil creatures and the film itself — couldn't compete with the joyous meta masterpiece that is Spice World, never mind topple a juggernaut like Titanic.
With all that said, though, there's still plenty of reason to revisit (or introduce yourself to) Phantoms on its twentieth anniversary. Sure, the editing is a mess and the story is as flimsy as that old box filled with VHS tapes that you just can't seem to get rid of, but it's also a film that deserves a certain amount of reclaiming. It deserves to be enshrined as a campy classic that populates the occasional midnight screening at your local cinema right around Halloween. From the performances and the special effects, to the sheer ludicrousness of certain scenes, Phantoms boasts some serious B-movie bona fides.
If you need more convincing, here are a few reasons why Phantoms deserves your time 20 years after its disastrous box office performance.
Read the full article @ SyFy Wire.
December 22, 2017

Step right into a world of books. I need more.
Originally published on Dec 18, 2017
December 22, 2017
https://www.youtube.com/watch?v=4X98evc9sgk
"The dead don't talk, I don't know why." But they do try to communicate, with a short-order cook in a small desert town serving as their reluctant confidant. Meet Odd Thomas, the unassuming young hero of Dean Koontz's dazzling New York Times bestseller, a gallant sentinel at the crossroads of life and death who offers up his heart in these pages and will forever capture yours.
Sometimes the silent souls who seek out Odd want justice. Occasionally their otherworldly tips help him prevent a crime. but his time it's different. A stranger comes to Pico Mundo, accompanied by a horde of hyena-like shades who herald an imminent catastrophe. Aided by his soul mate, Stormy Llewellyn, and an unlikely community of allies that includes the King of Rock 'n' Roll, Odd will race against time to thwart the gathering evil his account of these shattering hours, in which past and present, fate and destiny, converge, is a testament by which in live – an unforgettable fable for our time destined to rank among Dean Koontz's' most enduring works.
Originally published on Dec 13, 2017
December 16, 2017
Because.

December 4, 2017
https://www.youtube.com/watch?v=5f1JQYJnhDw
Published on Jun 21, 2017
December 4, 2017
Published on Nov 27, 2017
December 4, 2017
Just found some online ads & a review for the Italian edition of The Silent Corner. Sharing just for fun.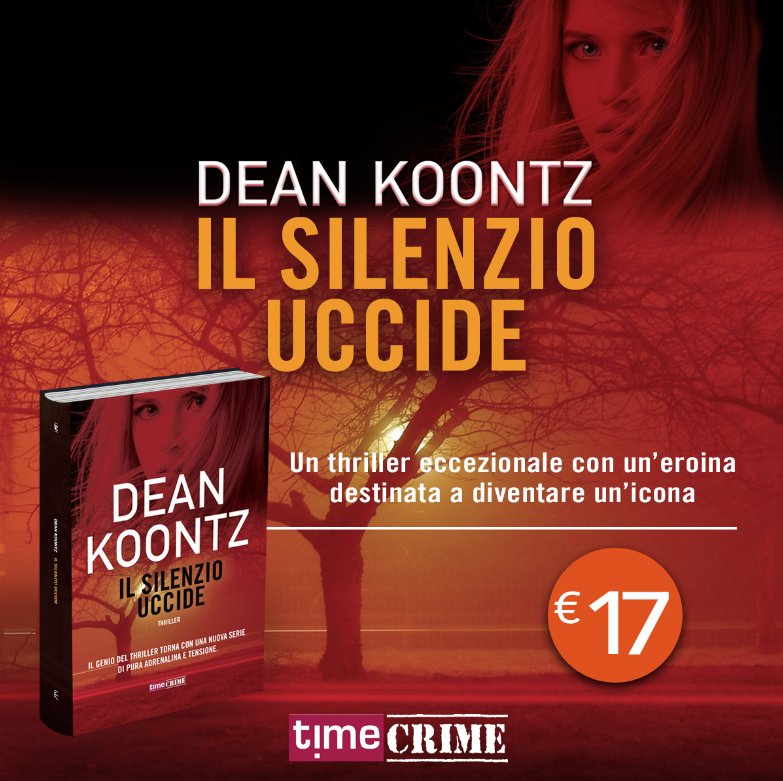 Source: @Time_Crime
March 5, 2017
I know Dean doesn't like to be pegged to a particular genre, but in all the years that I've been reading his work, I've found that in most cases, each novel falls into one of five categories: Science Fiction (Dark Symphony, Demon Seed, Lightning), Suspense (Whispers, House of Thunder, Key to Midnight), Horror (Watchers, Shadowfires, 77 Shadow Street), Fantastics (Odd Thomas, From the Corner of His Eye), and Thrillers (The Face of Fear, Shattered, Dark Rivers of the Heart.) Sure, there are exceptions (Hanging On) and you can quibble with me on even some of my examples, but in the end, the horror is my favorite followed by the thrillers in a very close second. The Silent Corner is a thriller in the best Dean Koontz style, and one I finished in just a few sittings.
The thrillers don't have monsters, nothing supernatural, aren't preachy, and usually have someone chasing after the main character. The tech involved is real although some it may be stretched a bit into the future for dramatic effect. The Silent Corner is a thriller and the first in a trilogy all centered around FBI Agent Jane Hawk, currently on leave looking into a conspiracy that she believes led her husband, and many others, to commit suicide. Throw in drones, armored vehicles, and a form of mind control and you'll be buckled in for the ride.
As a librarian I do have one additional praise and one criticism that I do want to get on the record. First, Jane uses public libraries on a regular basis to have untraceable Internet access. Kudos to Dean for getting this one right. However, another character, caught looking at porn in a library, defended his doing so with the following:
"Look, I work with various concerned groups in the city. We try to set things right where we can. It took a while to get libraries to block the nasty websites so kids couldn't get on them. Now and then a librarian or somebody decides it's a free-speech issue and opens the lid on the sewer. I was told that branch was backsliding. I had to see for myself. Today, the lid's back on, kids are safe."
The issue of porn on library computers just isn't that simple and I hope Dean doesn't actually think it is.
In the end, if you're a fan of Dean's thrillers you're going to love The Silent Corner and I expect the sequels when they arrive.

March 5, 2016
Way back in 1972 Locus magazine was still a fanzine than what it is today. And, in what I believe is a December 1972 issue ("the 26th 1972 issue of a bi-weekly newspaper") is a short less than spectacular review of Warlock written by Fred Patton.