Essays
Afterword to Watchers
by Dean Koontz
Mass Market Paperback
Release Date: 2003
Copyright: Afterword copyright © 2003 by Dean Koontz
Appears on page(s): 485-487
States: "50 49 48 47 46 45 44 43 42 41 40"
Trade Paperbac
Release Date: May 2008
Copyright: "Afterword" copyright © 2003 by Dean Koontz
Appears on page(s): 389-391
Useless News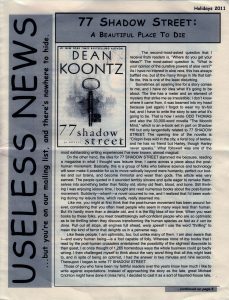 Release Date: Holidays 2011
Appears on page(s): 6-7
Notes
This is the same essay as the Foreword in the Signature Series Edition of Watchers.
Appears for the first time in the 40th Berkley mass market printing. Despite this fact, the copyright information has been updated and it is listed as "new".
It is not listed as new in the trade paperback edition.
The Useless News version states "Dean wrote this afterword for Berkley Books' reissue of the novel".
Last updated on October 8th, 2018