Scripts
CHiPs: Counterfeit (DRK)
by Dean R. Koontz
Script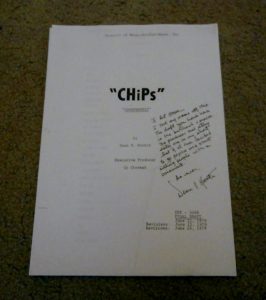 Release Date: June 26, 1979
Publisher: MGM Television
Stone auction description:
[3], 52, [1] pp. (mechanically reproduced multi-colored leaves printed on rectos only). 11x8½, original wrappers with two metal pins and paper tape hand-numbered "79-2-27" around middle of spine, MGM Television logo and lettered on the front cover with T.V. shaped cut-out in middle portion, blue and orange colored borders, custom plexi-glass slipcase. Final Draft screenplay, June 21, revised June 22 and revised again June 26, 1979.
Inscribed and signed by Koontz on the title page: "To Art Stone - I took my name off this. The draft you have here is the butchered version. The producer and story editor are on my short list if I ever decided to go psycho and start killing people with a cuisinart. As ever, Dean R. Koontz."
Photo courtesy of Paul Evans.
Last updated on April 23rd, 2018