Novels
Darkfall (DRK)
Originally The Pit as by Owen West
by Dean Koontz
Mass Market Paperback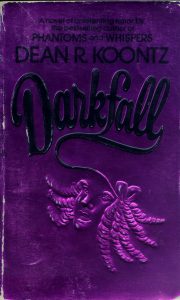 Release Date: October 9184
Copyright: Copyright © 1984 by Dean R. Koontz
Publisher: Berkley Books
Page Count: 371
ISBN-10: 0-425-10434-6
Cover Price: $3.95
States: "BERKLEY EDITION / OCTOBER 1984"
Contains a full-page advertisement for Phantoms in the back.
Printing 51: February 2007, contains a "new afterword"
Book Club Edition
Release Date: October 1984
Copyright: Copyright © 1984 by Dean R. Koontz
Format: Reprint of the Berkley mass market paperback edition
Publisher: Berkley Books
Page Count: 281
Book Club ID: #03749
States: States: A gutter code on page 280 of "O42" and "Book Club Edition" on the front dj flap.
There are five known printings of this edition: Gutter codes "O42", "P07", "P025", "P044", and those without a gutter code. Those without a gutter code also do not state "Book Club Edition" on the front dust jacket flap.
Notes
"I owe special thanks to Mr. Owen West for giving me the opportunity to publish this variation on a theme under my by-line."
Other editions:
Reviews:
A short review appears in Science Fiction Review #67 (April 1985) on page 34.
Last updated on February 26th, 2023