Essays
Godzilla Versus Megadeth
by Dean Koontz
Youthanasia Promotional Booklet
Release Date: September 1994
11"x17" (folded) promotional booklet for the album Youthanasia featuring the album's cover art on the outside and Dean's essay in the inside.
The Godzilla Box
Release Date: September 1994
Publisher: Capitol Records
This box was only released in the UK as a promotional boxed set and is commonly rumored to be limited to 100 copies or less. Included is a double-sided 8"x8" card with Dean's essay printed on it. The box also includes a promotional CD with "FULL ALBUM - PREVIEW COPY, FOR PROMOTIONAL USE ONLY, NOT FOR SALE" printed on the inside cover and spine.
Among Megadeth fans and collectors this item is known as "The Godzilla Box" so that is the name I'm using here.
The three autographs from Megadeth members shown in this image are not part of the original release of this item.
Online
Release Date: 1994
Copyright: © 1994 copyright Dean Koontz
Original URL: http://bazaar.com/Megadeth/koontz.html
Posted on the "Megadeth, Arizona." Web site which no longer exists. The essay is no longer officially on the Web although the essay has been re-posted on several other Megadeath fan sites.
Rock & Roll at the Newport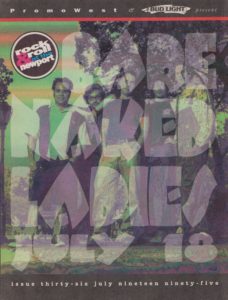 Release Date: July 1995
Publisher: Zimmerman Publishing Company
Page Count: 13
Issue: thirty-six
Appears on page(s): 6-7
Small promotional magazines printed on newsprint for the Newport Music Hall in Columbus, Ohio. The essay's appearance in this issue is in promotion of Megadeth's concert date of July 16, 1995.
Notes
My personal copy of the promotional booklet is contained within a white single-pocket folder with the Capitol Records logo embossed on the front. This folder also contained a Capitol Records press release dated October 10, 1994 titled "THE MEERING OF THE MEGAMINDS — AND PENS —  AS MEGADETH'S DAVE MUSTANE CROSSES PATHS WITH MEGGASELLING NOVELIST DEAN KOONTZ". This press release promotes both the Youthanasia album and Dark Rivers of the Heart. I have been unable to verify if this is the same version that came with the UK box set or is a separate promotional item.
The Rolling Stone Encyclopedia of Rock & Roll (Revised and Updated for the 21st Century) by Holly George-Warren
Fireside, 2001, p637
"Megadeth returned in 1994 with Youthansia (the album's press release was written by novelist Dean Koontz), which debuted at #4."
Related items:
The USA promo kit for #YOUTHANASIA included a t-shirt, stickers, advance cassette & a software computer game to coincide w/ the new Megadeth Arizona website, while the UK got the very rare Megadeth vs Godzilla press box, penned by horror/suspense novelist Dean Koontz. #MEGADETH35 pic.twitter.com/en3BcZE6lS

— Megadeth (@Megadeth) October 14, 2018
Last updated on April 16th, 2020