Film & Video
The Funhouse (Film)
Directed by Tobe Hooper
VHS
Release Date: 1990
Copyright: ©1981 Universal City Studios, Inc.
© 1990 MCA Home Video, Inc.
Publisher: MCA/Universal Home Video
SBN: #55051
Laserdisc
Publisher: MCA/Universal Home Video
SBN: #40385
DVD
Release Date: 1999
Publisher: GoodTimes Home Video
SBN: #05-81043
The DVD version has been released in both a snapcase (first) and keepcase.
Soundtrack (CD)
Release Date: c. 1998
Copyright: ©1998 MCA Music Publishing
SBN: JNBL 4001
States: "Produced by the composer for Promotional Purposes Only. Not License for Sale"
UK Blu-ray (All region)
Release Date: 2011
Publisher: Arrow Video
SBN: FCD477
Blu-ray
Release Date: October 16, 2012
Publisher: Scream Factory
SBN: SF 13590
4K Ultra HD + Blu-ray
Release Date: September 6, 2022
Format: 2 Discs, Blu-ray & 4K UHD
Publisher: Scream Factory
SBN: SF 22657
Original List Price: $27.99
Soundtrack (Vinyl)
Release Date: September 2023
Copyright: ©℗1981,2023 Universal Studios.
Publisher: Waxworks Records
SBN: WW170
Original List Price: $40.00
Notes
Released date: March 13, 1981
Director: Tobe Hooper
Writer: Lawrence J. Block (as Larry Block)
Stars: Elizabeth Berridge, Shawn Carson, Jeanne Austin
Runtime: 96 min | 90 min (cut) | 80 min (video)
Rated R
Opening Weekend USA: $2,765,456, 15 March 1981, Wide Release
Gross USA: $7,886,857
Also Known As: Carnival of Terror
(Data courtesy of IMDB.)
Other editions: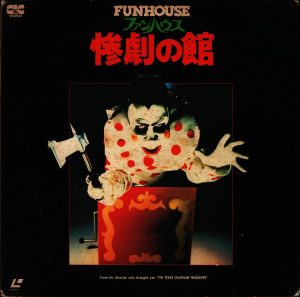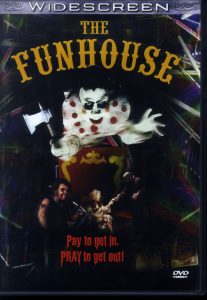 Video:
The mask from the film was briefly features in the the show Cursed Films s01e02: Poltergeist.
Fangoria #11, February 1981
p52: "The story of Funhouse is simple enough to lend itself to low-budget production. It's a familiar story-not only to readers of the recent bestselling paperback (adapted by "Owen West" from Block's screenplay), but it will also remind people of the sort of "scary story" that children swap around a campfire, or huddled under blankets late at night."
Midnight Movie Monographs: The Brood by Stephen R. Bissette
Electric Dreamhouse, 2020
p294: "Makeup effects amplifying real-life characteristics identified as birth defects were another matter entirely, resulting in the deformed 'shut-in' grotesques of FRIDAY THE 13TH (1980) and its sequels and imitations, as well as THE UNSEEN (1980), THE FUNHOUSE (1981), etc. 538 In both its casting of Felix Silla and John Ferguson, and its use of special makeup effects to render the Brood monstrous, THE BROOD was very much of its era, evocative of its freakish precursors and by its example fueling the procession of birth-defect slasher' monstrosities to follow. 539"
p204 footnote 589: "There were notable sympathetic counterpoints to the Jason/FRIDAY THE 13h demonizations in the 1980s, prominent among them David Lynch, Christopher De Vore, and Eric Bergren's THE ELEPHANT MAN (1980), Peter Bogdanovich and Anna Hamilton Phelan's MASK (1985), Rob Thompson and Sondra Locke's RATBOY (1986), etc. Consider, for instance, Rick Baker and Craig Reardon's makeup for the genetic freak' played by mime Wayne Doba in Tobe Hooper and Larry Block's THE FUNHOUSE (1981), which combines and exaggerates albinism with extreme frontonasal dysplasia: hypertelorism, cleftlip, and characteristics of a bifurcated skull, as well as fanglike teeth. The deformed young man's carny barker father (Kevin Conway) at one point refers to a brother-a deceased sibling, earlier shown in the film as a deformed infant pickled in a bottle on exhibit in the carnival Freak Show – and an oblique overheard conversation by other carnies strongly implies they were the spawn of Conway's camy having impregnated a deformed cow while drunk (see Eugene M. McCarthy, "Cow-Human Hybrids, http://www.macroevolution.net/cow-human-hybrids.html ). Universal Studios concocted an effectively appalling ad campaign featuring an extreme closeup of the deformed son-of-a-carny's mouth-with cleft lip, deformed gums and fang-like teeth, and semen like drool-with the tagline, "Something is alive in the Funhouse!"
In the documentary Cum on Feel the Noize (2017) at 1:00:27 "A Nameless Ghoul" from the band Ghost speaks about The Funhouse.
In Search of Darkness (1999) scene snippet re: nudity in 80s horror films @ 3:22:08
Misc:
Last updated on September 25th, 2023