Novels
The Other Emily
by Dean Koontz
Advance Reader's Copy
Release Date: November 2020
Copyright: Text Copyright © 2021 by The Koontz Living Trust
Format: Trade paperback w/ trade hardcover cover art
Publisher: Thomas & Mercer
Page Count: 353
States: "ADVANCE READER'S COPY" on cover
Trade Hardcover
Release Date: March 23, 2021
Copyright: Text copyright © 2021 by The Koontz Living Trust
Publisher: Thomas & Mercer
Page Count: 352
ISBN-13: 978-1542019958
Cover Price: $28.99
States: "First Edition"
Includes illustrated endpapers.
Audiobook
Release Date: March 2, 2021
Copyright: © 2021 by The Koontz Living Trust. ℗ 2021 Brilliance Publishing, Inc.
Publisher: Brilliance Audio
Read By: Performed by MacLeod Andrews
MP3-CD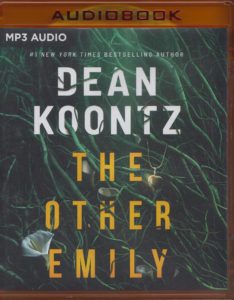 1 MP3 Disc / 10 Hours : 2 Minutes of Listening
I'm sure the official release date is March 23, 2021, along with the trade hardcover and CD editions, but I've listed the date that my copy arrived from Amazon.com.
Original List Price:$29.99
ISBN:978-1-7135-7669-3
CD
8 Compact Discs / 10 Hours : 4 Minutes of listening UNABRIDGED
Original List Price:$29.99
ISBN:978-1-7135-7668-6
Notes
You can read the first five chapters online @ CrimeReads.com.
The Spring 2021 issue of Suspense Magazine contains a review on page 31.
Is there an error on page 275?
Readers more astute than me have noticed that on page 275 Dean has created a door that is "hinged on the outside" yet "the door swung inward." On the face of it physically impossible. (This text also appears in the ARC.) However, there are things called "reverse hinges,"  the door appeared "where a door had not been before," and on page 134 Mathers describes the hall as "all the angles was wrong, walls and ceiling, like it was–I don't know–all sorts of rubbery."
So, is this an error or intentional. We'll at least have to wait until the paperback release to see if it's been corrected or now.
Reviews:
Promotional media:
Trade edition photos:
Notes:
Normally there aren't many differences when it comes to the interiors of the ARCs and the final release. However this time I did notice that when it came to the pages indicating the "Parts" of the story, the ARC pages are plain, while the same pages in the trade hardcover release were are illustrated.
Last updated on August 5th, 2022