ChildrenPoetry
The Paper Doorway: Funny Verse and Nothing Worse
Originally If I Were a Potato
by Dean Koontz
2nd Audiobook
Release Date: March 2004
Publisher: HarperAudio
Read By: John Ritter
Length: Unabridged - One Cassette
ISBN-10: 0-06-058459-9
Cover Price: $7.99
This second release of the audio cassette version is in the same packaging as the original with a sticker on the back covering the original printed UPC/ISBN/price area with a new UPC/ISBN/price. An additional sticker was affixed to the front plastic wrapping stating "$12.00 value NOW $7.99".
Book Club Edition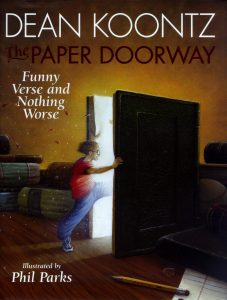 The book club edition I received was in every way and exact duplicate of the hardcover release.
Trade Hardcover
Release Date: October 9, 2001
Copyright: Copyright © 2001 by Dean Koontz and Phil Parks Illustrated by Phil Parks
Publisher: HarperCollins
ISBN-10: 0-06-029488-4
Cover Price: $17.95
States: "1 2 3 4 5 6 7 8 9 10" and "First Edition"
1st Audiobook
Release Date: October 9, 2001
Publisher: HarperAudio
Read By: John Ritter
Length: Unabridged - One Cassette
ISBN-10: 0-694-52575-8
Cover Price: $12.00
Trade Paperback
Release Date: March 2003
Publisher: Harper Trophy
Page Count: 159
ISBN-10: 0-06-440984-8
Cover Price: $9.99
States: "First Harper Trophy edition, 2003"
Notes
Table of Contents:
Advice
Ages of a Toad
All Families Are Not the Same
An Angry Poem by a Dragon's Mother
At War with Wood
Auntie
A Bad Cat
Balance
Baseball is Safer
The Bear with One Green Ear
Being Me
Better Than Money
A Beverage with Antlers
Boogeyman
The Cabbage Feels No Pain
Cats in Spats
Crime and Punishment
A Cure for Ugly
Dangerous Music
Dinner with Jilly
Do Trees Sneeze?
Dogs and Hogs
Fashion-Plate Fido
The Fearful Bee
Food Psychos
Frankenbunny
Handyman
Head Number Two
Horse Thief
I Don't Share
If I Were a Potato
Insults
An Interesting Fact About Dogs
Listen to the Wind
A Long Day of Rhyming
Lucky Skunk
The Man With Four Eyes
Mary Thinks She Wants a Puppy
The Monstrous Broccoli Excuse
My Words
The Paper Doorway
Peace Through Hopping
Peg-Leg Zeg
The Pig with Pride
Plurals
Poem by My Dog
The Prettiest Butterfly I Will Ever See
Princess with a Tail
Rain
Red Hair
The Reliable Bunny
Rocks
Rumor
Safe Household Accidents
The Seasons of a Toad
The Shark in the Park
A Short Trip
Sick
Silly
A Skeleton's Hotel
Snowland
So There
Stars, Mars, and Chocolate Bars
A Strange Day on the Farm
Them and Us
Thinking About Me
Those Weird Guys in Nursery Rhymes
The Threat
Toast and Jam
Up
Wally the Werewolf
The Wart
What Will We Do, What Will We Do?
What I Like
Why?
Why Good Manners Matter
Why I Find It So Hard to Learn
Why Most People Prefer Cats and Dogs
Wishes
The Woggle Wrangler
You Get the Pickle You Ask For
The Young Musician – Or Maybe Thug
From The Mammoth Book of Best New Horror edited by Stephen Jones
Carroll & Graf, 2002, p3:
"One Door Away From Heaven by Dean Koontz had 500,000 copies in print after three printings. It involved a woman on a quest to save a disabled child from the girl's strange stepfather, who believed that she would be taken away by aliens before her tenth birthday. The Paper Doorway: Funny Verse and Nothing Worse was a young-adult poetry collection by Koontz, illustrated by Phil Parks. In Britain, Headline published a paperback omnibus of Koontz's Watchers/Mr. Murder."
Last updated on February 19th, 2018