Novels
Odd Thomas 5.0: Odd Apocalypse
by Dean Koontz
Advance Readers Edition
Release Date: April 2012
Copyright: Copyright © 2012 by Dean Koontz
Format: Trade paperback w/ trade hardcover cover art
Publisher: Bantam Books
Page Count: 355
States: "ADVANCE READER'S EDITION" on cover
Trade Hardcover
Release Date: July 31, 2012
Copyright: Copyright © 2012 by Dean Koontz
Publisher: Bantam Books
Page Count: 355
ISBN-13: 978-0-553-80774-5
Cover Price: $28.00
States: "9 8 7 6 5 4 3 2 1" and "First Edition"
Large Print
Release Date: July 31, 2012
Copyright: Copyright © 2012 by Dean Koontz
Format: Trade Paperback
Publisher: Random House Large Print
Page Count: 448
ISBN-13: 978-0-307-99067-9
Cover Price: $28.00
States: "FIRST LARGE PRINT EDITION" and "10 9 8 7 6 5 4 3 2 1"
Book Club Edition
Release Date: July 31, 2012
Copyright: Copyright © 2012 by Dean Koontz
Page Count: 355
ISBN-13: 978-0-553-80774-5
Book Club ID: #1358306
Large Print Book Club Edition
Release Date: July 31, 2012
Copyright: Copyright © 2012 by Dean Koontz
Publisher: Random House Large Print
Page Count: 448
ISBN-13: 978-1-62090-146-5
Book Club ID: #1361730
Audiobooks
Release Date: July 31, 2012
Copyright: ©2012 by Dean Koontz
℗2012 by Brilliance Audio
Publisher: Brilliance Audio
Read By: David Aaron Baker
CD
9 Comapct Discs / 10 Hours : 47 Minutes, UNABRIDGED
Original List Price:$36.99 (listed on box)
ISBN:978-1-4558-3280-4
MP3-CD
10 Hours : 45 Minutes on 1 MP3-CD, UNABRIDGED
Original List Price:$24.99 (listed on case)
ISBN:978-1-4558-3282-8
Limited Editions
Release Date: Fall 2012
Copyright: Copyright © 2012 by Dean Koontz
Publisher: Charnel House
Page Count: 239
Numbered
125 signed and numbered copies
Bound and slipcased in Japanese Hikari silk and stamped in 22kt gold
Original List Price:$350.00
ISBN:978-0-927389-65-5
States:No statement of printing
Lettered
26 signed and lettered copies
Black Morocco leather spine stamped in 22kt gold
Charcoal Japanese Hikari silk boards inlayed with copper discs engraved with the infinity symbol
Housed in a handmade silk traycase.
Original List Price:$1500.00
ISBN:978-0-927389-64-8
States:No statement of printing
Premium Paperback
Release Date: April 30, 2013
Copyright: Copyright © 2012 by Dean Koontz
Publisher: Bantam Books
Page Count: 483
ISBN-13: 978-0-553-59309-9
Cover Price: $9.99
States: "9 8 7 6 5 4 3 2 1"
Pages 457-483 contain the first chapter of Deeply Odd.
Notes
On the back cover of the trade hardcover edition is the following text:
"WATCH THE ODD APOCALYPSE COVER COME TO LIFE! See what Odd sees with this special augmented reality Odd Apocalypse book cover! Using Dean Koontz's mobile application or your computer webcam, you can watch one of Odd's visions come alive. Visit DeanKoontz.com for more details."
This text does not appear on the covers of any other July 2012 edition.
The trade hardcover was released both with and without a round silver sticker on the cover stating "WATCH THIS COVER COME TO LIFE! See back cover or DeanKoontz.com for details."
On April 29, 2015 the CD edition was re-released containing a bonus MP3-CD of Odd Hours with a cover price of $44.99 (ISBN: 978-1-4692-4220-0). This edition was later re-released at the lowered price of $19.99 (ISBN-13: 978-1-5012-7264-6 / ISBN-10: 1-5012-7264-0).
A hard-plastic poster tube with a carrying strap labeled with advertising for Odd Apocalypse was distributed free as a promotional item at the 2012 San Diego Comic Convention. The number created/distributed is unknown.
A preview insert appeared in the August 2012 issue of Sky magazine.
Other Editions: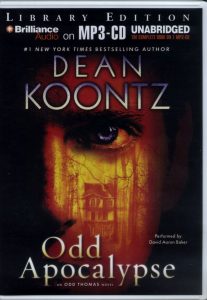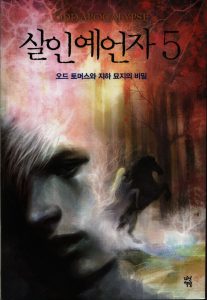 Related Items:
Last updated on March 18th, 2019