September 26, 2022
It's Watchers week here at CollectingKoontz.com. Not only had I somehow missed the Blu-ray release of Watchers II back in April, but today Charnel House started taking orders for their lettered and numbered editions of Watchers. Hope you've got room on your credit card.
September 19, 2022
I'm taking a bye week. Enjoy this interview in the meantime.
September 5, 2022
Happy Labor Day.
August 29, 2022
This week: a mention, a new newsletter, and a release date.
August 22, 2022
Keeping it simple this week with just one more book from the Night Chills bibliography. Sadly, sans dust jacket.
August 15, 2022
This week I didn't win an eBay auction (the first time in a while) but snagged the photo from the listing for the site. Otherwise, on the eBay front, an interview from 1989 that I was previously unaware of, along with one more from the Night Chills Bibliography. Enjoy!
August 8, 2022
I'm just sitting here at my local Toyota dealership having some scheduled maintenance done, so I figured this was a great time to get this update out. This tie around there are four more POD HCs, some cleanup, and a previously missed audiobook. Overall a semi-productive week. When it comes to clean-up, if you see something amiss, please don't hesitate to drop me a line. From typos to miss-ordered editions, I can use all the help I can get.
August 1, 2022
The week: more details on The Big Dark Sky and an updated magazine cover.
July 25, 2022
It's new book week! The Big Dark Sky is out along with the trade paperback edition of Quicksilver. Chek out those details and more below.
July 18, 2022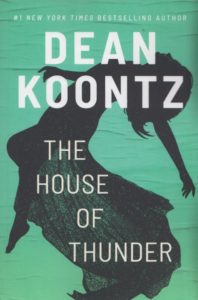 I'm posting this early today because I just need a day to myself, and the new Resident Evil show is calling my name.
July 11, 2022
I was expecting another POD title to appear before today but it didn't make it so this week just the new POD of Demon Seed, the new short story sequel, and a random Japanese edition.
July 4, 2022
No updates today but a bunch on deck for next week. Go outside, grill some burgers, and watch some (professional) fireworks.
June 27, 2022
Just one little on-screen update this week. Enjoy.
June 20, 2022
This week I've added a neat little promo item, a new newsletter, and finally (for a price I was willing to pay,) filled in one more significant hole in my collection with the arrival of Anything for Joe.
June 13, 2022
Another busy week. Just one new item this time around. But, since it's another print-on-demand edition be sure to check out the note about the page headers. The plot thickens…
May 16, 2022
I've got a vacation coming up and I'll be completely offline most of that time. So, please don't expect any more updates for at least two weeks. Thanks.
May 9, 2022
If there's no other proof as to me being a completist, it's the fact that I spent money on an ebook "unmasking Dean Koontz´ [sic] prophecy." Please spare yourself from this drivel.
May 2, 2022
Plenty of new items this week ranging from 1969 to 2022. And, in site news, Appendix G was getting too large for WordPress to handle properly, so I've split it into two: G(1), which covers 1969-1999, and G(2), which covers 2000-present. It's not the most elegant solution, but it was the best one I could come up with.
April 24, 2022
A day early because I have to work the day job tomorrow. However, I have a four-day weekend coming up so looking forward to getting back to those zines.
April 11, 2022
This week we've got the SF Opinion entries outlined and a bunch of other random items from the giant "list of things to add."